Every time I emerged from the back door for much of the summer, I was haunted by the sounds of the Hungry Ghost. I look up and all I see is a white face floating in the backyard. Reminiscent of No-Face from the movie Spirited Away (2001).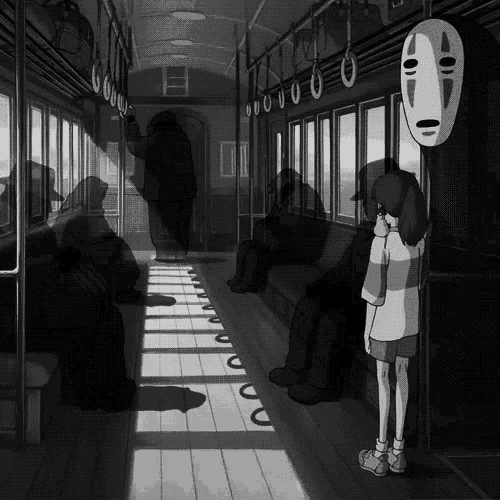 Her name is Thelia. She is a white-faced La Mancha. One of the defining features of a La Mancha is very small ears, which adds to the effect of the floating white face.
When the wailing began, I would go investigate. Does she have food? Does she have water? What else can I do to make a goat happy? She has companions, Hector and Andromache. But they are Nubians, so perhaps they don't speak the same dialect.
She often leans against the chicken coop where she has a good view of the back door. And only occasionally ventures off into the far corners of the barnyard to forage with the other goats. I imagine sometimes that she is a bit agoraphobic, wailing and leaning against something solid because the world is so big. She wants to go home.
Home was another farm down the road crammed with lots of goats in ones and twos in their own pens. Perhaps 30 goats at a time, with that number blossoming into the 60 or more during kidding season. That farm raises goats for 4-H programs in the area and kid goats are bottle fed goat milk so they don't damage mama's udder. Thelia came here because she couldn't be shown at the fair. Her udder is crooked. Charles said, "does it work?" Sold.
So I imagine her to be a bit lonely with the Nubians (aka Heckle and Jeckle), since (in her mind) they are ignorant half-wild children that know nothing about life in Goat City. "I mean, they eat LEAVES! So uncivilized… they don't even know that crackers are food."
To soothe her and help her feel more at home, I bring her offerings: weeds from the garden (she likes the tips of yellow dock and thistles) and branches from whatever I've pruned (she loves privet and since it's invasive I cut it back quite regularly).
But really, it's not enough. Like No-Face, Thelia is eternally hungry, and lonely.
We took her from her home and brought her to this big open space where the gate is always open and there are these two predators (dogs) always lurking about waiting for a chance to chase them. Perhaps she will always feel like something is missing. I don't know what goat memories are like.
But here's what I've seen in dogs. Panama escaped his first home via Charles. He dedicated much of his life to being a companion to Charles.
Charles adopted Muchka directly from Shirley. I'm pretty sure Muchka followed Charles around hoping he might get a ride back to Shirley.
Maly was adopted from "the circus" and always wants to get back on the road.
Whereas Elsie was saved from a six month ordeal, nursed back to health here, and will be eternally grateful.
What does this mean for Thelia? Only time will tell.